Hampshire flooding: Village evacuated and motorists rescued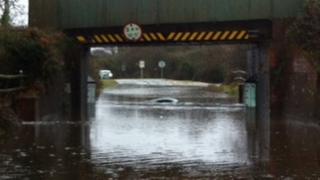 A village is due to be evacuated and a number of motorists have been rescued from their vehicles after heavy rain caused flooding in Hampshire.
The Environment Agency (EA) has issued a severe flood warning for Wallington on the River Wallington.
The EA said the flood defence around the village had failed and cracks had formed in the wall.
Hampshire Fire and Rescue Service said it had rescued six people from submerged vehicles.
A father and daughter had to be pulled from their car which had become stranded in a ford on the Sway to Brockenhurst road.
They were rescued by a police community support officer after swimming from their Porsche.
The River Lymington in Brockenhurst burst its banks earlier with water reported to have risen to 3ft (1m).
Firefighters also rescued two people from a van stranded in Purbrook Ford, Waterlooville, and motorists stuck in vehicles after driving into floodwater in Fareham, Ringwood and Wallington.
The fire service warned people not to drive through flood water.
Area manager Andy Bowers said: "We are urging motorists not to take any undue risks by driving through floodwater. Some of the water is already very deep and it is only set to get deeper.
"Vehicles can be swept away or become stranded, so if in doubt do not enter the water, either in a vehicle or on foot."
Routes suspended
Waterlooville near Portsmouth and Brockenhurst in the New Forest were the worst affected areas.
The service said it had also been called to flooding at homes in Hayling Island, Waterlooville, Emsworth, Colden Common, Brockenhurst and Woolston.
Gordon Coleman's house in Emsworth flooded for the second time in three years when a drainage ditch overflowed overnight.
He said: "It's covered all our carpets through the house and conservatory - everything is just floating."
Many roads have been closed due to the water, which has also caused disruption to rail services with some routes suspended.
No trains are operating between Bournemouth and Brockenhurst.
Buses have been bought in to replace trains between Fareham and Eastleigh.
A spokeswoman for the South West Trains-Network Rail Alliance said: "We apologise to our customers for the disruption to their services this morning which is due to flooding caused by heavy rain overnight.
"We are working hard to restore services in these areas as quickly as possible."
In Southampton all roadworks within the city have been suspended by the council while workers replace blown manhole covers.