Christmas turkeys saved from fire at Hampshire farm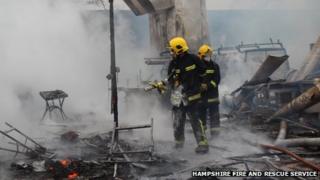 Hundreds of turkeys destined for Christmas dinner plates have been rescued from a blaze at a farm in Hampshire.
About 250 birds were moved from a shed at the farm in Colemore after fire spread from the workshop next door.
The timber workshop and a farm vehicle were destroyed by the fire and the cause is being investigated.
The blaze did not spread to surrounding buildings and all of the turkeys survived. No one was injured.
Brian Rudman, from Hampshire Fire and Rescue, said an animal rescue specialist and firefighters helped the farm hands in herding the turkeys to a safe building.