Lymington gun kidnapper's family urged to hand him in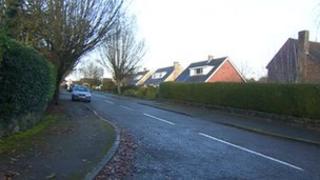 Police investigating an armed robbery and kidnapping of a woman in Hampshire have urged the offender's family to "hand him in".
A man in swimming goggles threatened a couple at their Lymington home on Friday before stealing their car.
He forced the woman, in her 60s, at gunpoint to go with him as he drove around the town demanding money.
Police have linked the attack to an armed kidnapping at Brockenhurst railway station on 5 December.
At a public meeting at Lymington Town Hall earlier, police updated residents on the progress of the investigation.
'Consider the violence'
Two men, aged 48 and 44, have been arrested and bailed.
But Ch Insp Tony Rowlinson said: "We are still looking for the offender and this investigation is a priority for us.
"Family and friends may also hold the key to reasoning with this man and convincing him to hand himself in to police.
"It is rarely an easy decision to report someone for whom you care or love to the authorities over a crime.
"However, consider the violence this man has displayed already.
"It must stop now and any information you have can be given anonymously by phoning the independent Crimestoppers charity on 0800 555 111."
The woman was not injured but her husband, who is in his 70s, received a minor head injury during an altercation with the suspect inside the house in Rookes Lane, where the robber stole about £100.
Car found abandoned
The woman was driven erratically around the town in a silver/grey Peugeot 207 convertible before she was returned after about 15 minutes.
The car was later found abandoned at the end of Newenham Road.
In the incident at Brockenhurst railway station, a man was forced into his Porsche 911 Carrera at gunpoint and made to drive to the town's HSBC bank where he was made to withdraw a large quantity of money.
The 48-year-old man, from Lymington, was arrested on suspicion of robbery and aggravated burglary and the 44-year-old, from New Milton, was held on suspicion of robbery.