Norovirus on Azura cruise ship prompts 'deep clean'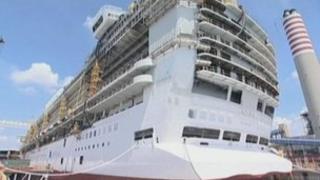 A second P&O cruise ship has been "deep cleaned" following an outbreak of the winter vomiting bug norovirus, the Hampshire-based company has said.
Ten cases were confirmed on Azura which arrived in Southampton on Saturday morning following an 11-night tour of Iberia.
The liner had more than 3,000 passengers on board.
More than 400 passengers contracted the bug on P&O's Oriana during a Baltic cruise which arrived back on Friday.
P&O Cruises apologised to passengers affected on both ships.
A spokesperson said: "We don't want anyone to be ill, especially not when they are on holiday on one of our cruise ships."
Extra cleaning
Azura was due to depart on a 12-night cruise of the Atlantic Islands, including Madeira and Tenerife, at 18:00 GMT.
Extra cleaning took place on Oriana before it departed for a 23-day Mediterranean cruise on Friday.
It was the second bout of the bug in successive voyages on Oriana, which carries up to 1,843 passengers.
Passengers who were affected were confined to their cabins during the outbreak.