Southampton 40-acre solar farm backed by planners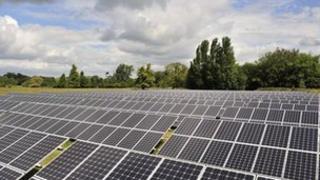 Planning permission has been granted for a 40-acre solar park near Southampton.
Solarcentury plans to put up nearly 26,000 panels on land at Chalcroft Farm, West End.
The firm which has 10 other solar farms in the UK says the photovoltaic farm will produce enough electricity to power 1,800 homes.
The plans, which allow the park to produce up to 7.3MW, were approved by Eastleigh Borough Council on Thursday.
Frans van den Heuvel, chief executive of Solarcentury, said: "When the right sites are selected, solar is a very attractive technology."
He said the site had been selected for its "minimal visual impact and proximity of grid connection".
"Solarcentury has designed and built 10 solar parks in the UK to date and this is the first where we have acted as developer," he added.
Local construction company Arun Services, has been awarded the principal sub-contracting role of constructing the site.
Mr van den Heuvel said that would ensure jobs remained with people in the local area.