Bramshill police training centre to be sold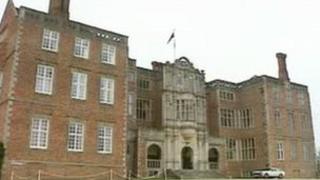 Home secretary Theresa May has decided to sell the police training centre in Hampshire, where the service has trained officers for almost 60 years.
The College of Policing, which leases the site from the Home Office, says Bramshill is not "economically viable".
Built in 1612, the Grade I listed Jacobean mansion, near Hook, is set in a 300- acre estate.
It is the training base for senior officers, has accommodation, sports facilities, a canteen and two chapels.
The site also houses the British National Police Library, the largest policing library in Europe, the National Missing Persons Bureau and the Serious Crime Analysis Centre.
Stations closed
The College of Policing says it costs £5m to run and has "significant value".
The site, which was acquired by the Home Office in 1953, is expected to be sold by April 2014.
In October, the Metropolitan Police announced that it was considering selling its headquarters, New Scotland Yard, to raise money and reduce costs.
Dozens of police stations across England and Wales are also being closed as forces make savings.
A College of Policing spokesman said: "Bramshill has been a symbol of police leadership training for over 50 years but is not considered economically viable.
"The strength of British policing runs far deeper than that.
"The College of Policing will pursue its mission of safeguarding the public and supporting the fight against crime by ensuring professionalism in policing regardless of which buildings it occupies."