Southampton 'enhanced clean' for Oriana after illness outbreak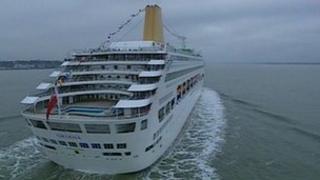 A cruise ship due to arrive in Southampton will be subject to extra cleaning in port following an outbreak of norovirus.
More than 160 passengers on P&O Oriana have suffered from the vomiting and diarrhoea bug, during a 10-day Baltic cruise that departed on 4 December.
P&O said "enhanced sanitation protocols" had been put in place.
Southampton Port Health Authority said it would be monitoring the cleaning of the ship when it arrives on Friday.
Sandra Westacott, of the health authority, said the ship had reported outbreaks for several days on the current and previous voyage.
'Parties cancelled'
Levels of the highly contagious illness peaked at 160 outbreaks reported in one day, but levels have since dropped to six in a day. There are 1,843 passengers on board.
Passenger Denise Weston said it has "marred" her holiday.
"All the parties on board have been cancelled," she said. "You don't have that freedom you normally have.
"If you do go down with it you are kept in your cabin so miss the ports of call."
Oriana is due to arrive in Southampton on Friday morning, slightly earlier than scheduled.
'Effective plan'
New passengers will not be allowed on board until extra cleaning has taken place in public areas and cabins, expected to take 6-7 hours.
Ms Westacott said: "We are confident the company's outbreak plan is an effective one.
"There is a very very high level of norovirus in the community at the moment. We shouldn't be surprised about outbreaks happening."
The company said its standard procedure was to give new passengers a factsheet with precautions on preventing norovirus and ask them to sign a health declaration at check-in.