Unmanned Atlantic boat Snoopy Sloop search draws blank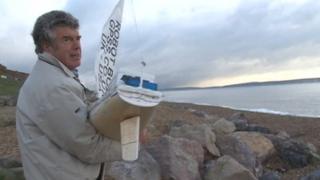 An unmanned boat which crashed off the Isle of Wight hours after it was launched in a bid to cross the Atlantic Ocean has still not been found.
Retired Nato scientist Robin Lovelock's 4ft (1.2m) boat Snoopy Sloop set sail from the Hampshire coast on 27 November but soon hit trouble.
It has been technically disqualified from the race to cross the ocean.
But Mr Lovelock has not given up hope in finding his boat and getting it re-entered into the competition.
The attempt was part of the Microtransat Challenge to become the first unmanned vessel to cross the Atlantic Ocean from a point to the south of Ireland.
Since 2010, two French boats have foundered in bad weather and a University of Aberystwyth vessel suffered technical failure.
'Very unlucky'
As it has now been more than 10 days since Snoopy Sloop broadcast a tracking message the boat has been disqualified - but could be reinstated if it is found and re-launched.
Its last broadcast placed it near The Needles.
Mr Lovelock, from Sunninghill, Berkshire, blamed a strong tide for pushing the boat eastwards.
He said: "The good news is that he worked well - and he was very unlucky.
"A launch an hour earlier, or from a few hundred yards further west, and he might have made it past The Needles."
He developed the £450 boat on Bray Lake over the past four years.
A Global Positioning System (GPS) computer was designed to pilot the boat for the 5,000 miles (8,000km) - taking about six months at 3mph.
He said members of the public have come forward with possible sightings of Snoopy but urged people not to put themselves in danger by trying to rescue the craft.