March for Isle of Wight missing boy Damien Nettles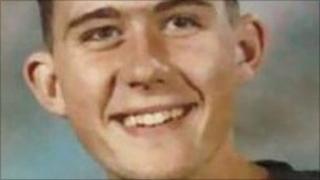 Dozens of people have marched through a town on the Isle of Wight in support of the family of a teenager who went missing 16 years ago.
Damien Nettles, 16, vanished after a night out in Cowes in 1996. Hampshire Constabulary believes he was murdered.
Campaigners who marched in Newport want detectives to dig at possible burial sites at Gurnard and Parkhurst Forest.
But a police spokesman said: "The crucial challenge in this case is separating fact from fiction."
He added: "Only facts will allow our enquiries to locate Damien and the ultimate answers sought by police and the Nettles family.
"Hampshire Constabulary is grateful for the public's continued interest and support for our efforts to find out what happened to Damien Nettles.
"Detectives are determined to solve this case with the help of the community."
'Premature conclusions'
Kaley Hall from Cowes organised the march via Facebook when she heard police would not dig at the sites.
She said: "I just felt compelled that as an island we should all start stepping forward and making our feelings known and supporting the Nettles family.
"We need the police to agree to search these areas for the sake of the Nettles family to give them peace of mind.
"Basically it's about trying to get the awareness out there and so that people know Damien isn't forgotten, and we are going to continue with the campaign until Damien is found."
But police said information passed to Damien's family did not come from tangible sources.
Hampshire Constabulary has offered a £20,000 reward for information until April.
'Misinformation'
Since the offer in October it has received "20 pieces of information".
It added: "The information received over the past month is being assessed by detectives who are keeping an open mind about future lines of enquiry.
"We must not draw any premature or hasty conclusions.
"Regrettably we must remember that Damien's disappearance has been the subject of much misinformation and gossip over the past 16 years."
Eight people were arrested in connection with Damien's murder in 2011 but were later released without charge.
His mother Valerie, who now lives in Texas, believes her son may have been killed over a cannabis debt.