Portsmouth funeral for World War II George Medal officer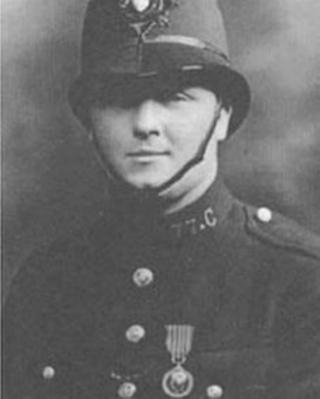 The funeral of a former policeman given the George Medal for bravery during the Blitz has been held in Portsmouth.
Constable Goronwy Evans was one of two policemen awarded the medal during World War II.
Members of Hampshire Police Choir sang at the service, which was attended by The Lord Mayor of Portsmouth.
Mr Evans died aged 94. His daughter Tricia Hobbs said: "He would be overwhelmed by all the attention."
During one of the biggest German bombing raids on Portsmouth in 1941, Mr Evans was on duty when a bomb dropped on a building in Elm Grove.
The blast caused the gas main to catch light and parts of a nearby nursing home to collapse.
'Pride and honour'
Eddie Wallace, who served alongside him in the Portsmouth City Police, said: "We had fireman coming in to give us a hand, but one crew refused to come into the city because of the amount of fires.
"People were entombed inside, Goronwy ran inside, he collapsed himself several times, but he got the occupants out."
Aged 23, Mr Evans was awarded the George Medal for his bravery in a ceremony with King George VI.
Mrs Hobbs said: "He was completely overawed with pride and honour. He couldn't remember what the King said to him, all he could remember was him pinning the medal on.
"My father very rarely talked about the Blitz and his own actions. He would say 'I was only doing my duty'.
"He was very proud of being a member of the Portsmouth Police Force."