Waterlooville lollipop patrol man killed by car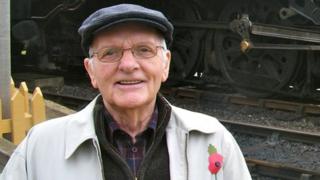 The family of an 82-year-old lollipop patrol man who died after being struck by a car in Hampshire have said they are "shocked and devastated".
Raymond Elsmore was hit by a car in Tempest Avenue, Waterlooville, near Queens Inclosure Primary School, just after 15:00 GMT on Wednesday.
He was airlifted to Southampton General Hospital but later died.
The 21-year-old female driver of the Nissan Micra was arrested at the scene and later released on bail.
In a statement issued through Hampshire police, Mr Elsmore's family said: "We are shocked and devastated to have lost Ray who meant so much to so many.
"We feel so lucky to have shared our life with someone so fun-loving, happy, friendly and caring.
"We are very touched by eveyone's kind tributes."
The pensioner, who lived in Waterlooville, had worked as a patrol man for the school for 13 years.
'Completely devastated'
He was struck by the car having just escorted a parent across the road.
Police said he was wearing a reflective tabard and carrying his lollipop.
Sgt Darren Ord said: "At the time of the collision, Mr Elsmore was not escorting any children.
"Many people in the local community are concerned about the collision, I would like to reassure them that we are continuing our investigation and keeping an open mind as we seek to establish exactly what happened."
Officers have appealed for witnesses.
Flowers have been left at the scene for the lollipop man, who lived locally.
Paying tribute to Mr Elsmore the school said it was "completely devastated".
"Mr Elsmore was well loved by many children and their families and will be very sadly missed. Our thoughts and prayers go to his relatives and friends at this terrible time," it said in a statement.
Tributes have also been posted on Twitter.
'Sadly missed'
One message from Emma Wyatt said: "What a gentleman. A friendly face that will be sadly missed by so many."
Conservative MP George Hollingbery said: "I visited Queens Inclosure Primary School last year and it occurred to me then what a close-knit community it was, so this terrible tragedy must be awful for the staff, pupils and parents.
"My heartfelt sympathy goes out to everyone at this difficult time and especially to the lollipop man's family."
Deputy leader of Hampshire County Council, councillor Mel Kendal said: "I know Mr Elsmore was highly regarded in the local community and I have no doubt his death will be a huge blow to that community.
"He will be sorely missed."