Men guilty of Southampton drugs feud shooting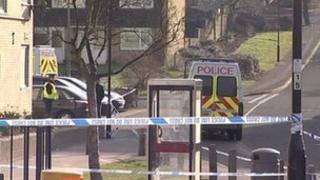 Two men have been found guilty of shooting a man in the legs in Southampton during a drugs feud.
Malachi Francis, 26, and Calvin Lawrence, 25, both from south London, carried out the attack in Vanguard Road in the Townhill Park area in February.
They were convicted at Southampton Crown Court of possession of a firearm with intent to cause fear and violence and wounding with intent.
The pair will be sentenced on 4 January.
Victim scarred
The shooting was one of a number of violent incidents in Southampton that prompted a major operation by police to tackle drug-related violence in the city.
Det Insp Adam Price said: "It's an extremely unusual event.
"There hasn't been a single shooting such as this since February in Southampton. It's very, very rare.
"Because of that we have the resources that we can put into these investigations to look at all possible lines of evidence.
"The victim has recovered - he's certainly recovered physically anyway.
"I've seen him and he can still walk OK, but he still bears the scars, obviously."
Francis, of Lympstone Gardens in Peckham, and Lawrence, also of Peckham, had denied the charges.