Pedersen deaths: Father killed children and himself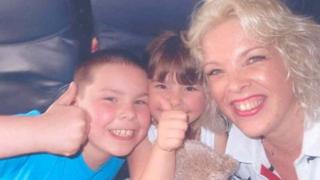 An ex-Army sergeant and IRA bomb survivor with post-traumatic stress fatally stabbed his children and then took his own life, a coroner has ruled.
Ben and Freya Pedersen, aged seven and six, were found next to a car on a remote bridleway in Newton Stacey, near Andover, Hampshire, on 30 September.
Michael Pedersen, 51, from Surrey, had been on an arranged visit with them after splitting from his wife Erica.
The coroner recorded a verdict of suicide and two of unlawful killing.
Mr Pedersen, of Chertsey, was a former member of the Household Cavalry who, along with his horse Sefton, survived the IRA Hyde Park bombing in London in 1982.
Winchester Coroner's Court heard he was banned from visiting the family home after being arrested for allegedly assaulting his wife, which led to the breakdown of their marriage a month before the killings.
'Beyond comprehension'
He told his GP that he thought he was suffering from post-traumatic stress disorder, the court heard.
Before killing the children he wrote letters to her, his father, family and the police. He then stabbed himself in the heart.
Central Hampshire coroner Grahame Short said: "What happened that afternoon is beyond comprehension.
"It must have been a horrifying realisation for the children to suddenly realise what their father intended and to be attacked in the way they were.
"There can be no justification for taking the lives of two innocent children in these circumstances."
Mr Short said the loss of control had affected Mr Pedersen and that he could no longer live with his children and wife.
"Michael was angry, not just with his wife, but with the doctor, social services and Surrey Police, all of whom he believed had led him to be in the situation he found himself."
After the attack on his wife in August Mr Pedersen was served an injunction, but was not charged and no further action was to be taken.
Giving evidence, Mrs Pedersen said she had suffered a broken arm and shoulder.
She said the 10-year marriage was "not good at all" by the summer: "There was constant shouting, accusing me of things."
Defensive injuries
On the day the children were killed Mrs Pedersen, who lives in Ashford, Surrey, returned to her house to find it looked like it had been burgled and two knives had been taken.
They were later used by Mr Pedersen in the killing, the court heard.
Two hours after he failed to return the children, she reported them missing, but a dog-walker had already found their bodies behind a Saab convertible car on the bridleway.
Post-mortem examinations found the children died from multiple stab wounds to the chest.
Both had defensive injuries to their hands and arms, the hearing was told.
Neither had been drugged before the killings and Mr Pedersen had no drugs or alcohol in his system.
Mr Pedersen's brother Robert told the inquest the father loved his children and "worshipped the ground they walked on in every respect".
Their father Brian said everything was normal as his son and grandchildren left after a visit that afternoon, and he assumed his son was taking them home.