Gosport flat attack man Andrew Toseland out of coma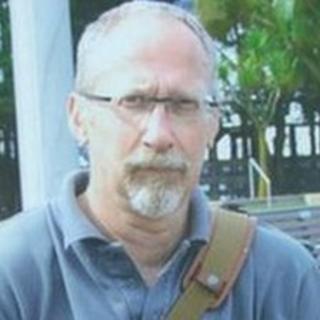 The mother of a man left in a coma after an attack outside his Hampshire flat has said his condition is improving.
Andrew Toseland, 49, was attacked outside his home in Gosport, Hampshire, apparently after asking a group of people to be quiet.
His mother Nina Toseland said he could now sit up and eat through a straw.
She said doctors at the Queen Alexandra Hospital were pleased with his progress.
"He will never fully recover though," she said.
"He will need 24-hour care and will have to go into a nursing home and be looked after there.
"He's been coming on quite well since we found some glasses for him.
"Now he can pick out who we are in photos and knows who we are when we're talking to him. I think he was in a bit of a blur before."
After the attack, which happened shortly after midnight on 25 August, Mrs Toseland, 78, asked doctors to let him die if his condition worsened, describing her son as a "shell".
Three people have been charged in connection with the attack and are due to appear in court later this year.
The Independent Police Complaints Commission (IPCC) has begun an investigation into how police dealt with anti-social behaviour at the flats in the lead-up to the attack.