Fareham to see joint navy and police Christmas patrols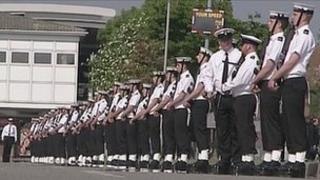 A Hampshire town will see joint patrols by police officers from the Royal Navy and local force in the run-up to Christmas.
Fareham hopes the move will ensure residents enjoy a safe festive season.
HMS Collingwood and HMS Sultan are both based in the town with servicemen regularly visiting its pubs and clubs.
Police hope the patrols will help them build on a 20% drop in violent crime in the town during 2012 compared with the previous year.
Sgt Janine Santer, who will be out on the joint patrols, said the naval officers will have the same powers as neighbourhood officers.
"The benefit of having them alongside us is they can recognise and identify navy personnel on a night out a lot quicker," she added.
"Should the patrols prove a success, we hope to carry them into the new year."