Plans for £4.5m Greyfriars Arts Centre in Ringwood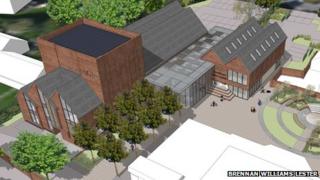 Plans for a community arts centre in a Hampshire town have been announced.
The proposed £4.5m Greyfriars Arts Centre in Ringwood would have a 250-seat theatre and cinema that doubles as a large social venue.
Local community and arts groups are due to submit a planning application for the independently-funded centre.
Project member Julian Peckham said: "Finding the £4.5m will be a huge challenge, but we are confident it can be done."
The proposed new building would replace the existing Greyfriars Activities Centre beside the town library.
'Secure financial footing'
Members of Ringwood and District Community Association and the Ringwood Musical and Dramatic Society are due to submit plans for the centre to New Forest District Council.
Mr Peckham said: "This is a perfect example of Ringwood people working together to create something that the town needs and can be proud of.
"We have spent a lot of time looking at the fine detail of the feasibility of this project and have left no stone unturned to ensure it can be built and run on a secure financial footing."
He said the centre would draw on funding from voluntary donations, charitable trusts and grants and would not require financing by New Forest District Council.
The facility would be able to host cinema and live event screenings, theatre performances and exhibitions.