Port of Southampton secures marine dredging licence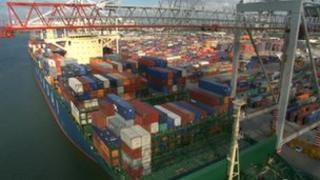 Larger container ships will be able to navigate the Port of Southampton following the approval to dredge 450,000 cubic metres of mud.
Associated British Ports has secured a marine licence to widen the channel at Marchwood Moorings by 30m (98ft).
The decision means larger container vessels will find it easier to turn around.
The largest container ship in the world is due to dock at the port's DP World moorings later this month.
Two berths at the port are currently undergoing redevelopment to handle a new fleet of larger container ships.
Port director Doug Morrison said: "This is another step to ensure marine access to all container berths meets the future needs of our customers and maintains the port's position at the forefront of global trade.
"Widening the channel at Marchwood will also ensure we maintain the highest navigational safety standards in the port."