Boleh Trust secures lottery funding for yacht restoration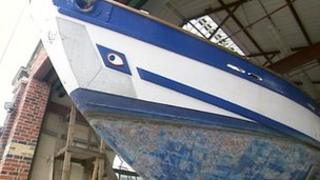 A Hampshire charity has received £501,000 in lottery funding to help complete the restoration of a junk yacht.
Boleh, a 40ft (12.2m) vessel, was built in Singapore after World War II before sailing to Salcombe, Devon in 1950.
Portsmouth-based the Boleh Trust will use the Heritage Lottery Fund grant to employ apprentices from the city's Highbury College.
Once completely restored, Boleh will become a sail training vessel.
Ship science students from the University of Southampton will also be helping with the restoration.
George Middleton, chairman of the Boleh Trust, said: "We're extremely grateful to the Heritage Lottery Fund as their support will allow us to make a huge difference to the lives of young people in the Portsmouth area.
"What's really wonderful about this funding is that it will help us to share Boleh's remarkable story and heritage with the local community."
Commander Robin Kilroy built the original vessel from traditional materials to a mixed junk/Bermudan rig design. Its features include portholes made from the windscreens of Japanese fighter aircraft.