King's Royal Hussars homecoming parade in Winchester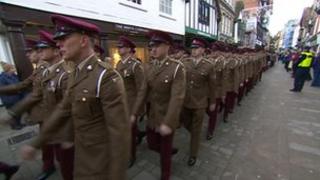 Well-wishers lined the streets of Winchester to welcome 300 soldiers back from Afghanistan.
The homecoming parade marked the return of the King's Royal Hussars after a six-month tour of Helmand.
All the cavalry regiment's soldiers came home from the front line, but some suffered serious injuries.
They marched through the city centre to Winchester Cathedral for a thanksgiving and carol service attended by their families and friends.
The regiment is stationed at Aliwal Barracks, Tidworth in Wiltshire.