New Forest National Park Authority vote put on hold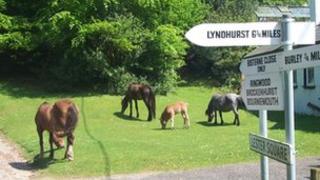 Campaigners have criticised a government decision to postpone indefinitely elections to the New Forest National Park Authority (NPA).
Environment minister Richard Benyon has said there was insufficient Parliamentary time to legislate for pilot elections to the authority.
New Forest campaign group One Voice said it was "bitterly disappointed and quite angry" at the decision.
The authority members oversee the park's planning and management.
The New Forest had been earmarked for pilot schemes to elect authority members, along with the Peak District National Park.
Current members are appointed, but the coalition government raised the possibility of electing members after the 2010 general election.
'Relatively uncontentious'
Sue Bailee, of One Voice, blamed the decision on the low turnout in the recent Police and Crime Commissioner (PCC) elections, making the government were unwilling to hold any other new elections.
"I'm almost certain they are quite hesitant to do direct elections - but that's no excuse for it," she said.
New Forest MP Julian Lewis expressed surprise the "relatively uncontentious" legislation could not be passed.
He said electing members to the authority would give "a degree of accountability you wouldn't have otherwise."
"I think undoubtedly the PCC elections with their derisory turnout has been a deterrent, but that shouldn't be the case. I would like the project to go ahead."
During a Westminster Hall debate, Mr Benyon denied the PCC election turnout had influenced the decision.
"The government is committed to breaking down the perceived barriers between local communities and those making decisions on their behalf.
"There may be some doubt about the glee with which the electorate crammed themselves into the polling booths to elect them [PCCs], but I feel sure that things will change over time."
The NPA said it was committed to the election process if and when the legislation is put in place.
Chairman Julian Johnson said: 'We continue to work with communities and make our work as open and transparent as possible.
"There are many opportunities for people to engage with us, such as quadrant meetings, consultative panel, public meetings, social media and we always welcome any further suggestions."