Isle of Wight coast path calls criticised by landowners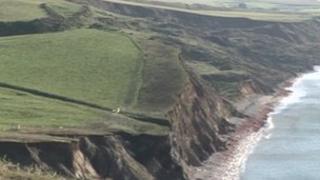 Landowners on the Isle of Wight have criticised calls to create a continuous walking path around the island.
About half of the existing 70-mile (110km) route around the island is diverted away from the sea.
Ramblers say filling in the existing gaps could be worth £35m a year to the island.
The Country Landowners Association says including it in a planned round-England route would be costly and of "very little benefit".
Walkers' pressure group Ramblers says that having a complete path looping the Isle of Wight would boost the local economy, citing the popularity of existing walking festivals which bring more than 20,000 visitors to the island annually.
The Isle of Wight was the only part of England not included in 2009 legislation for a non-stop coast path around England.
The Department of Food and Rural Affairs (Defra) has been carrying out a consultation over whether to include the island in the Marines and Coastal Access Act.
'Significant problems'
Landowners dispute Ramblers' claim for the size of a financial benefit, saying the island is already well served with public rights of way.
Belinda Walters, of the Country Land and Business Association said: "We already have a marketed coast path. There are very good reasons why areas are inaccessible - areas where it is unsafe and where there are serious environmental issues in very protected landscapes."
"There are significant problems - like the slippage and erosion of cliffs at Niton Undercliff.
"There are other areas where businesses would be damaged if they were opened up to the general public to walk through."
Mike Slater, of Isle of Wight Ramblers, said a path which hugged the coastline would be a "real asset" to the island.
He said: "The Isle of Wight has 70 miles of beautiful varied coastline - half is a perfectly good but we have major shortcomings for the other the part."