Residents urge action on Winchester's pollution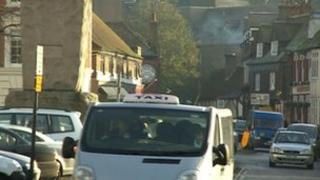 Residents in Winchester have handed a complaint over the levels of air pollution in the city to the European Commission in Brussels.
Green MEP Keith Taylor said annual levels of Nitrogen Dioxide (NO2) in the town were 25% above permissible limits.
The council said it was taking measures to reduce pollution from motor vehicles with park and ride and cycle schemes.
Levels of NO2 in the city are monitored by two real-time air quality monitoring stations.
The council also has over 40 NO2 diffusion tubes monitoring air quality across both the town centre and the district.
'Worrying problem'
But, continued failure to meet EU quality policies could result in fines.
Mr Taylor said: "Winchester has a worrying air pollution problem. We've seen no serious action from either the city or the county council.
"It's high time that action was taken to make Winchester a healthier, safer place to live in and travel around."
However Rob Heathcock, of Winchester City Council, said there was an action plan in place to deal with air quality.
"It was reviewed this year and new actions have been put in. I think that we're doing everything that we possibly can."