Winchester's Barton Farm campaigners end fight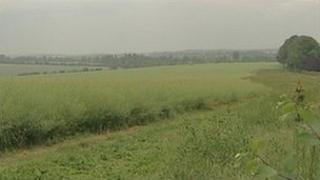 Campaigners against 2,000 new homes on Hampshire farmland will not take any more action to fight the plans.
Cala Homes has wanted to build on the Barton Farm site since the late 1990s.
Communities Secretary Eric Pickles initially rejected outline permission but made a U-turn when the developers took legal action.
The Save Barton Farm group said it has now ruled out a judicial review, which would have cost at least £50,000, and is resigned to the plan going ahead.
'Turkey dressing'
Campaigner Gavin Blackman said the group has been given advice they probably only had a 25% chance of winning.
He added: "We haven't got many other options open and therefore unless something different happens... then we can't see any reason for group to continue.
"When we spoke about [legal] costs, it was not only ours but also the other side and we were looking at a minimum of £50,000."
Mr Blackman also said he has no intention of monitoring the development and was angry residents did not put up more of a fight.
"I was there to save the farmland... once it's gone its gone, it's like a turkey choosing its dressing for Christmas.
"If other groups spent more time challenging this development rather than setting up forums to monitor its progress it may have made a difference."
Mike Emett from Cala homes hoped a planning application would be submitted by next June with building possibly starting in the spring of 2014.
"We are just pleased we can get on and deal with the city's housing needs," he added.
Some residents have long objected to the plans, saying the city's roads, schools and services could not cope with so many new homes.
Of the 2,000 homes, about 800 will be social housing for people on the city council waiting list.