Mother wants tests brought in for elderly drivers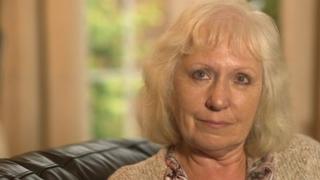 The mother of a Hampshire man, killed when a 90-year-old driver who "could hardly see" crashed into her son's car, wants the way elderly drivers are assessed to be changed.
Neil Colquhoun, 28, from Hook, died when retired GP Dr Turner Waddell drove about a mile the wrong way down a dual carriageway in March 2011.
His mother, Patricia Colquhoun said she could not believe there were not stricter limitations on an ability to hold a driving licence.
Mrs Colquhoun said: "I don't hold the driver who killed my son responsible for my son's death, it is the system, because it's the system that allowed him to continue driving."
She wants to see elderly drivers undergo a full medical examination by their doctor which she said should be "tailored to their fitness to drive". She also wants them to take a theory test.
"This would gauge their ability to react with speed to whatever may arise on the road," she said.
"I also believe no-one over the age of 90 should hold a driving licence."
People aged over 70 have to reapply for a licence every three years and make a medical self-declaration confirming they are fit to drive. There is not a driving test or medical.
'Health problems'
A DVLA spokesperson said: "All drivers must ensure that they are medically fit to drive and to notify DVLA of the onset or worsening of a medical condition affecting this.
"We have special arrangements with medics and police for them to notify us quickly about diagnosed or suspected health problems and we investigate these urgently.
"If we find evidence a driver does not meet the appropriate medical standard we immediately suspend their licence."
The DVLA said it had no plans to restrict licensing on the basis of age.
Mrs Colquhoun believes the crash on the A30 at Old Basing on 11 March 2011 could have been avoided.
The doctor had failed an eye test the day before.
Sgt Rob Heard said: "On the day of the collision we found that in fact he had no sight in one eye and below the legal limit in the other.
"He could hardly see where he was going as he was driving along the road."
'Feeling of guilt'
Mr Colquhoun was trapped in his car by the crash and it burst into flames.
Mrs Colquhoun said: "They couldn't open the doors, they couldn't get him out, there was nothing left to identify my son.
"All that they could offer me was a burnt mobile, which was just melted plastic."
Passing his condolences to the Colquhoun family, Dr Waddell's son Tony said he had confronted his father on his ability to drive.
He said: "I have a feeling of guilt that we could have done something.
"We gave advice but he wouldn't take it in, it was probably arrogance.
"The sadness of the whole thing is that my father, a well respected GP, should end his days actually taking a life. He is deeply sorry for what's happened."
Dr Waddell received a nine-month suspended sentence in August 2012. He was also disqualified from driving for life.
More on the issues of elderly drivers are explored on Inside Out BBC One South on Monday 3 December at 19:30 GMT. Watch afterwards on BBC iPlayer.