Southampton teenager calls for intensive eating disorder care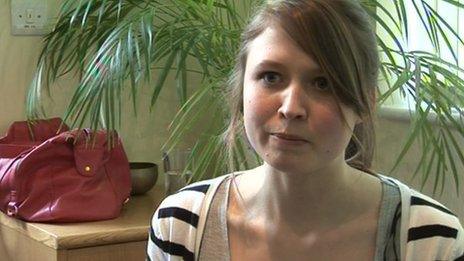 "I got my life back," said 18 year-old Becky Pentley, reflecting on the time she spent at a support centre centre to help her overcome anorexia nervosa.
The teenager from Southampton is now campaigning for similar intensive treatment for others with eating disorders.
She says she has "let go" of her anorexia and is planning a skydive to raise money for the April House facility in Southampton where she was treated.
It comes as Southern Healthcare NHS Trust announces plans to increase the opening hours of the unit.
Becky said her eating difficulties had "crept up on her" through her teens until they began to have a serious impact on her health.
"I thought everything would be OK if I lost weight and my life would be perfect - I think that's the trap a lot of people fall into."
Becky admitted being "quite scared" when she was first referred to the centre.
The day centre offers people with eating disorders support during mealtimes, discussion groups on body image and self-esteem as well as practical sessions on cooking and food shopping.
"The Day Support Programme gave me the strength, insight and tools that I needed to begin the difficult fight to get my life back which I had lost to anorexia," she said.
"I got my health back, I got my life back, my relationships got better and better. I've been able to rebuild college and work - everything is fitting into place."
She is hoping more people can experience the same kind of day-to-day treatment.
"If it was open 12 hours a day, seven days a week, people would stand a far better chance of getting the help they need.
"When you are in an eating disorder, recovery can seem impossible. I've personally experienced the journey of letting go of my anorexia."
'Jumping into the unknown'
Dr Hannah Turner, consultant clinical psychologist at April House, said she had seen a "steady increase" in referrals over the past five years, with the centre now treating up to 450 people a year.
She puts it down to increased awareness of eating disorders and an increased willingness for friends and families to talk about any concerns.
In the new year the facility is due to be among the first in the country to pilot an extension to its opening times, to 11 hours each weekday.
It is currently open from 08:30-17:00 on Monday to Thursday and 08:30-16:30 on Fridays.
"The feedback from patients would suggest it has helped a lot of people actively achieve their recovery goals.
"One of the aims of the extra hours is to help people intensively, flexibly and locally - this programme enables us to support people at an earlier point in their illness," said Dr Turner.
As part of her Freedom to Fly campaign, Becky is planning a skydive in February.
"Doing a skydive is like recovery - jumping into the unknown and just trusting it's going to be OK.
"I've seen how much this programme can help people. You can still get back from that place - from rock bottom."
Related Internet Links
The BBC is not responsible for the content of external sites.