Rainfall causes travel disruption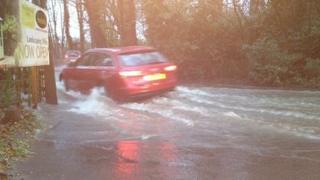 Heavy overnight rainfall has caused travel disruption around Hampshire.
The county council said highways crews had been working throughout the night dealing with incidents of flooding and fallen trees on roads.
An Environment Agency flood warning is in place on the River Blackwater from Landford to Wade Bridge.
Northern Avenue in central Andover and parts Brockenhurst and Ringwood have been affected by standing water.
BBC reporter Jo Palmer reported "incredibly challenging" driving conditions on roads overwhelmed with water alongside the River Itchen.
Andy Harding, manager of the Brambridge Garden Centre in Kiln Lane near Eastleigh said: "When we get a downpour like we did last night, we get a problem at the bottom of the road.
"It's more of an inconvenience to rush hour drivers than it is to us at the garden centre."
The closure of the fords on the River Blackwater mean that there was no access to Giles Lane, Plaitford and Foxes Lane in Wellow.
In Southampton St John's Primary and Nursery School in French Street has been closed because of damage to the roof caused by heavy rain over the weekend.
Plans to close the flood gates at Lymington, which would have affected traffic heading to the Wightlink Isle of Wight ferries, were withdrawn.
More than 150 flood warnings remain in place in England.