Hampshire couples gather to say 'I do' all over again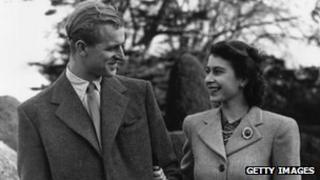 Couples from across Hampshire who married during the Queen's reign have renewed their wedding vows.
Romsey Abbey hosted more than 80 couples, who have been married between 60 and 75 years, to give thanks for their long marriages.
The ceremony also marked the Queen's 65th wedding anniversary and the Diamond Jubilee.
A message of goodwill from the Queen was read out to the couples during the service.
Afterwards, the couples cut a special celebration cake.
Vicar of Romsey, Rev Tim Sledge said: "It started as a nice idea for the Diamond Jubilee and grew from there.
"One of the couples present will actually be celebrating their 60th wedding anniversary on the day having married at the abbey in 1952."
Romsey has a special link with the Queen and Prince Philip's wedding of 1947. The couple spent part of their honeymoon at nearby Broadlands Estate, the former home of The Earl Mountbatten of Burma.