Fareham solar farm consultation deadline extended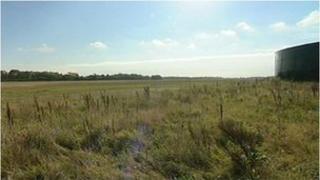 The deadline for people to comment on plans for a £40m solar panel farm in Hampshire has been extended by three weeks.
German firm ib vogt GmbH wants to put 200,000 solar panels on 58 hectares of agricultural land in Fareham.
It says the farm would provide electricity to more than 13,500 homes for up to 25 years.
Local councillors say the solar farm would be an eyesore, but green campaigners have welcomed the plans.
People have until 21 December to comment on the proposals.
Fareham Borough Council said consultation letters with details of public events and how to comment on the planning application would be sent o households in Peel Common, those east of Mays Lane and north of Gosport Road in Stubbington and homes in Longfield Avenue, overlooking the fields.
Opponents to the plans say the solar farm would be too close to the HMS Daedalus airfield and on fields needed by pilots in case of an emergency.