Mumford & Sons fans stung by fake Portsmouth tickets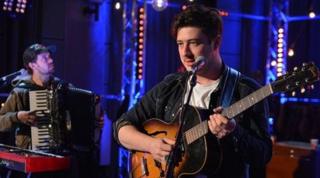 Concertgoers were turned away from a Mumford & Sons gig in Portsmouth after being found to have fake tickets.
Police received a report that about 100 people were refused entry to the city's guildhall on Thursday night.
Fan Paula Wynne told BBC News her partner had bought a pair from resale website Viagogo for £200.
Viagogo said duped fans would be offered real tickets to a future Mumford & Sons gig or a voucher to the value of the original purchased ones.
Portsmouth Guildhall said it was working with police to investigate.
A statement on the band's website said: "We sincerely hope that not too many of you good honest Mumford & Sons fans have been affected.
"If you have purchased tickets from any secondary vendors then we would urge you to seek your money back immediately.
"Remember to always purchase tickets from official vendors only."
'Heartbreak and disappointment'
Those found with fake tickets, which had a face value of £23.50, had them stamped and were given letters from the venue explaining that police had been notified.
Ms Wynne, from Andover, Hampshire, said dozens of people were found to have forgeries, including fans from the United States.
She said: "My partner bought the tickets online and he bought a hotel [room].
"We really wanted to make an occasion of it, it was my first ever live concert.
"We got there last night and were tossed out on our ears."
When BBC News contacted Viagogo, its head of marketing Ed Parkinson said a handful of people had so far complained, and he promised a full refund.
He also said the website would give those who were duped free tickets to another Mumford & Sons gig or a voucher to the value of the original purchased tickets.
Ms Wynne said: "It is absolutely brilliant that we can get our money back.
"It will be unbelievable to salvage the chance to see these guys, we are going to jump, scream and sing."
Mr Parkinson said the refund could be given as money was put into a holding account and only released to sellers a few days after the gig to ensure all parties were satisfied.
"We have to make a decision whether the seller was acting maliciously and can suspend and delete accounts," he added.
He said the firm would work with police to find those responsible.
The venue also said it had reports some fans had bough fake tickets through the Seatwave site.
Joe Cohen, CEO and founder of Seatwave, said: "We are aware of two instances where Seatwave customers were turned away from the gig.
"In line with our ticket integrity policy we immediately refunded these fans in full.
"We are conducting an internal enquiry and will be happy to share the results."