Isle of Wight Council suspensions over Cowes college delay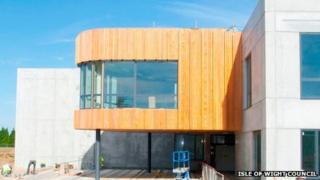 Two members of Isle of Wight Council staff have been suspended pending an internal investigation into the delay of a new college building.
Construction of the new £32m Cowes Enterprise College building began in 2010 and was set to open in September but has been delayed until spring.
The council has not named the staff members but said their suspensions were a "precautionary measure".
It added heavy rain during the summer had "hindered" building work.
'Pupil support'
The state-maintained college, formally known as Cowes High School, has 1,100 pupils who are currently being taught in an old 1950s building on the same Crossfield Avenue site.
As well as new classes and an IT suite, the new building will have community facilities, including sports pitches and an auditorium.
Alan Wells, chair of governors at the college, said the delay had been "disappointing" but added the college was "managing the situation".
"We're doing everything we can to make sure pupils are not disadvantaged - giving them as much support as we can," he said.
Steve Beynon, chief executive of Isle of Wight Council, said: "The council's overriding priority is to ensure that the new school building is complete, safe and ready to be used as soon as possible."
He also said a new council project team was now overseeing the building's construction.