Rare Sir Arthur Conan Doyle Sherlock Holmes book on display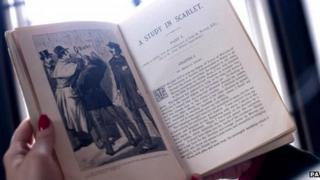 A rare first edition copy of a Sherlock Holmes novel by Sir Arthur Conan Doyle is to go on display in Hampshire.
A Study in Scarlet, which was the first book to feature the literary detective 125 years ago, goes on show at Portsmouth City Museum on Saturday.
The book appeared in Beeton's 1887 Christmas Annual and only few first edition copies still exist.
Sir Arthur created Holmes while living in Southsea, where he worked as a GP before turning his hand to writing.
"When Conan Doyle first started writing Sherlock Holmes' adventures 125 years ago, he could never have realised he'd created a global icon," said Stephen Baily, Portsmouth City Council's head of culture.
"Through books, films and now the latest television series, Conan Doyle's famous detective still endures and also fascinates new audiences."
'Influential detective'
A Study in Scarlet is part of a private collection of Conan Doyle memorabilia bequeathed to Hampshire by collector and writer Richard Lancelyn Green, following his death in 2004.
The collection, estimated to be worth about £3m, consists of more than 55,000 items.
Stephen Fry, a patron of Arthur Conan Doyle Collection Lancelyn Green Bequest, said the exhibit marked "125 years of the world's most recognisable, enduring and influential detective".
"Holmes is imperishable," he added.
"Sometimes his reality, manners, traits, habits, turns of phrase, style of dress, his violin, cocaine, tobacco, deerstalker and magnifying glass obscure the achievements of Sir Arthur Conan Doyle, a man quite as remarkable as his best known creation."
Due to its fragile condition, the novel will not go on permanent display at the museum but will remain there until the end of January 2013.