Hampshire and Isle of Wight PCC: Simon Hayes pledges to reduce cuts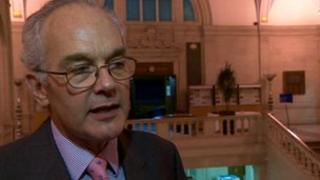 The new police and crime commissioner (PCC) for Hampshire and the Isle of Wight has said he will limit cuts to police personnel.
Simon Hayes said improving police response times was an "absolute priority".
He said he would reduce the cut of 390 officers already suggested by Hampshire Police Authority to about 200.
Independent Mr Hayes beat ex-Conservative minister Michael Mates by nearly 15,000 votes.
Speaking on BBC Radio Solent, he said: "I've been talking about not reducing the number [of police] to the extent which has already been suggested by the Hampshire Police Authority.
"They were going to reduce 390 police officers plus Police Community Support Officers (PCSOs) - we are not going to be doing that."
'Restorative justice'
He said his strategy was to reduce reoffending through measures like restorative justice, where criminals are made to face their victims.
"If we consider the lower-end sentences, I think there are actions the commissioner can take to avoid people going to prison for short lengths of time," he said.
"I'm not convinced that the most effective way of dealing with an offender is to send them to prison for six months. It doesn't help the individual to stop reoffending.
"Restorative justice works in a small way with young offenders, and can be very effective.
"If we reduce the offending, we reduce the victims."
Ex-Tory Mr Hayes, a former chairman of Hampshire Police Authority, insisted his plans would make police response times quicker.
"It is an absolute priority that the police are there for the role."
The government set up the commissioner role in an effort to make police more accountable, with a single "figurehead" monitoring and ensuring performance.