Nuclear sub officer's widow collects posthumous George Medal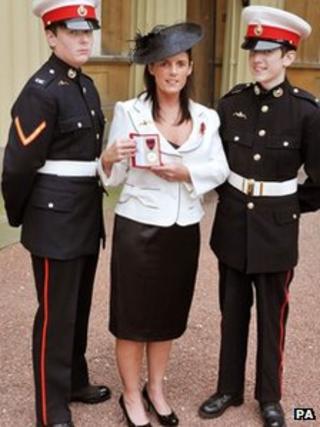 The widow of a navy officer who prevented a massacre on a nuclear submarine, has received his posthumous bravery award from the Queen.
Lt Cdr Ian Molyneux died while tackling Able Seaman Ryan Donovan as he opened fire on HMS Astute, which was docked in Southampton on April 2011.
He was awarded the George Medal, one of the highest accolades for bravery.
Gillian Molyneux was accompanied by sons Jamie and Arron at the investiture at Buckingham Palace.
The 36-year-old father-of-four from Standish, Wigan, tried to disarm Donovan after hearing shots on board the submarine on April 8 2011, but was shot in the head.
After the private ceremony, Mrs Molyneux said it had been a "very proud and very sad occasion".
"The Queen told me she was very pleased that she was able to present the medal herself and that meant a lot to me," she said.
"She asked how long Ian had been in the service, what he got up to and what he enjoyed.
"She made it very personal."
Mrs Molyneux was also accompanied at the ceremony by her father-in-law James Molyneux. Her sons were dressed in their Marine Cadet uniforms.
She said: "If Ian had known about this he would have wondered what all the fuss was about.
"He was a very unassuming man, very proud of what he did - he absolutely loved his job and being on the boat - and he was a very, very brave man."
Donovan was jailed for at least 25 years in September 2011 for murdering Lt Cdr Molyneux and attempting to murder Lt Cdr Christopher Hodge, Petty Officer Christopher Brown, and Chief Petty Officer David McCoy.