Joshua Woodhouse death: Coroner criticises the navy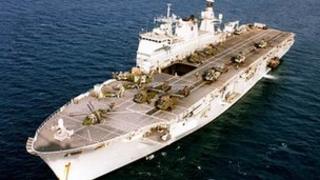 A coroner has criticised the navy for "a culture of cutting corners" regarding health and safety on its warships after an officer fell to his death on a helicopter carrier.
Lt Joshua Woodhouse was serving on HMS Ocean which was visiting a naval base in Jacksonville, Florida, at the time.
The 25-year-old, of Portsmouth, died of severe head injuries four days after the 40ft (12m) fall in August 2010.
A jury at Portsmouth Guildhall returned a narrative verdict.
It stated that Lt Woodhouse, an engineering officer, should have been wearing a safety harness, which would have saved his life.
'Entire naval fleet'
The jury also said a lax health and safety culture and a "can-do" nature may have contributed to Lt Woodhouse's death.
The inquest heard Lt Woodhouse had gone onto a landing craft vessel without a safety harness as it was suspended in its bay at the side of the Plymouth-based warship, the second largest in the Navy.
Portsmouth Coroner David Horsley said: "Having heard the evidence in its entirety, there are a couple of matters of concern to me.
"The jury have highlighted one of them in their verdict and that is a culture they feel existed on board the ship which resulted in corners being cut in relation to health and safety procedures.
"My suspicion is that this does not relate to just that little boat section or that ship but it is throughout the entire naval fleet."
He said that despite efforts by the navy to reinforce health and safety regulations, not enough had been done.
Mr Horsley described how during a visit this summer to HMS Ocean by himself and counsel for the MoD and family, a sailor had said to them he did not wear a harness because it was "a nuisance and cumbersome".
"I want the MoD and the navy to look further at what can be done to enforce awareness of the value and purpose of health and safety regulations."