Robert Sebbage murder: Retrial of Zakynthos taxi driver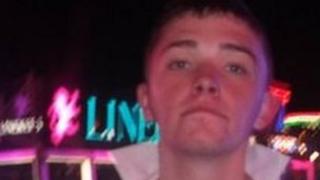 The case of a Hampshire teenager stabbed to death on a Greek Island is to go to a retrial, the family's lawyer has said.
Stelios Morfis, 22, was cleared of the murder of Robert Sebbage, 18, from Tadley near Basingstoke, but convicted of a lesser charge in September.
Family lawyer Angeliki Petta said the trial outcome was being contested.
Robert's mother Rhian Sebbage said the ongoing legal process meant the family was "continuously reliving it".
He had been with eight friends on his first holiday without his parents when he was killed on the group's last night out on the island of Zakynthos in July 2011.
Stelios Morfis was found guilty of causing deadly bodily injury without intent and sentenced to 11 years.
At the time, Robert's father Andy Sebbage called the verdict "a disgrace".
'Should be comforting'
Ms Petta said an appeal from the district attorney would mean the case being heard again, in front of more senior judges and a different jury.
She said the prosecution would be setting out to prove Robert's death was an intentional act of homicide.
"This should be comforting for the Sebbage family that it is contested.
"The whole procedure will be repeated - everything is going to be re-examined, the witnesses will be examined once more," she said.
She said the defence legal team was also appealing against the original sentence on the grounds that it was too severe.
The foreign witnesses and need for translation in the case could mean another two years before the retrial starts.
Mrs Sebbage said the legal bills were already "quite huge".
"We don't get any closure from it until this court case is finished.
"The thought of having to sit around for another two years for it to come to court again just horrifies you. It's not easy," she said.
Morfis was convicted of causing four of Robert's friends dangerous bodily injury without intent.
Another man, Dimosthenes Mylonas, 26, was charged as an accomplice but was found not guilty.
A verdict of unlawful killing was delivered by North Hampshire coroner Andrew Bradley at an inquest in October 2011.
A Foreign and Commonwealth Office spokesperson said: "This is a very tragic case and our sympathies remain with Mrs Sebbage and her family during this difficult time.
"FCO Staff in Greece provided consular assistance to the Sebbage family, and other British nationals involved in this case in advance of and during the trial, and in line with our policy, consular staff attended both the first and last day of the trial.
"We stand ready to offer further consular assistance to the Sebbage family if required."