Southampton De Vere Grand Hotel atrium lit up blue for diabetes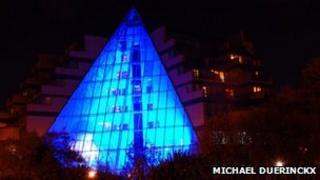 The atrium at the De Vere Grand Harbour Hotel in Southampton has been lit up blue to mark World Diabetes Day.
However, due to a suspected technical fault, the planned illumination of the city's Civic Centre clock tower on Wednesday did not go ahead, a Southampton Council spokesman said.
Famous buildings and monuments from across the globe were lit up in blue to raise awareness of the disease.
World Diabetes Day is coordinated by the International Diabetes Federation.