Portsmouth mail centre review puts 380 jobs at risk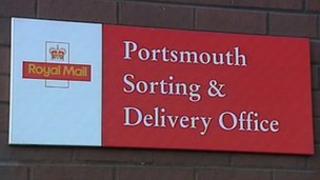 Royal Mail is to review its mail centre operations in Portsmouth as the company handles fewer letters and parcels.
Approximately 380 jobs are at risk at the Slindon Street centre as Royal Mail begins a six-month consultation with staff and trade unions.
Royal Mail says the process is part of a wider, continuing review of its mail centres across the UK.
The Communication Workers Union (CWU) says the news is devastating for the city and fears the centre could close.
Royal Mail explained the review is a response to their need to react to the huge growth in electronic communications and overall decline in mail volumes.
In Portsmouth, the number of items posted to addresses in the region by Royal Mail from other parts of the country has fallen by more than 15% in the past four years.
Items posted to addresses outside the region have fallen by more than 43% in the same period.
'Big concern'
CWU branch secretary Ruth Harris admitted staff were shocked by the news.
She said: "This has been talked about for a number of years and when you hear about it for so long, you come to think after a while that it might not happen.
"But, the announcement has definitely come as a shock to staff.
"Under any consultation process that's happened throughout the country, no mail centre has ever been saved. So that is a big concern for our members."
The union added it will work hard to protect its members throughout the consultation and talks have already begun.
Royal Mail said its aim will be to minimise any job losses and they intend to make changes without compulsory redundancies.