PCC candidate Michael Mates: 'I'm not a carpetbagger'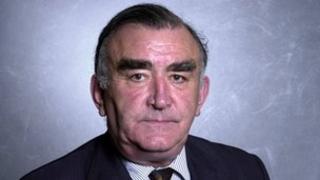 Former Conservative MP Michael Mates has denied being a "carpetbagger" over claims he rented a flat in Winchester so he could run for police and crime commissioner (PCC) elections in Hampshire and Isle of Wight.
On a BBC Radio Solent PCC election debate, fellow candidate Don Jerrard accused Mr Mates of "trickery".
All PCC candidates have to be resident in the place they are seeking election.
Mr Mates said he lived in Sussex, "just 500 yards" outside Hampshire.
He denied being a carpetbagger - a term originally coined in the US to describe politicians from the North accused of taking advantage of the southern states by moving there following the defeat of Confederate forces in the Civil War.
Latterly it has come to refer to politicians with few ties to a community or in financial circles, those who force a building society to demutualise.
Mr Mates said he had cleared his decision to rent a property in Winchester with the electoral registration office and it was "perfectly legal".
He said he could have applied to be a PCC in Sussex but his "heart was in Hampshire".
He said: "I went way back even before the selection process started and asked advice - I said to the agent who is the professional about electoral law - what can I do?
"I'm perfectly prepared to rent a flat, I'm prepared to make that investment for nine months - and quite a considerable investment - because I really want to do this job."
He said he had stayed in the flat on "a number of occasions" and would live there if he was voted into the post.
"We have taken the flat, we have put furniture in there, put some of our possessions in there - it is perfectly legal to have two residences," he said.
'On the patch'
Mr Jerrard, of the Justice and Anti-Corruption Party, said: "We have to have complete integrity at all times. I don't like tricks played and people coming into my county and not obeying the rules.
"It matters very much where a candidate lives and I live in Hampshire and I'm proud of it."
All of the area's six PPC candidates took part in the debate earlier.
Independent candidate Simon Hayes said he did not want to get involved in the debate over Mr Mates' residency but believed it was important for the successful PCC to live in the area.
UKIP candidate Stephen West said he believed Mr Mates had shown a connection to the area and was "relaxed" about the issue.
Jacqui Rayment, the labour candidate and deputy leader of Southampton City Council, said: "I think the PCC candidate should live in the area when they've got the job.
"I think they need to be on the patch and experience the service and connect with the community."
She said the "disagreement" over Mr Mates' residency "did nothing" for the public's perception of the new PCC role and candidates.
Liberal Democrat David Goodall said it was important that the PCC candidate was "part of the community".
He said he had lived on the Isle of Wight for 20 years and was Southampton-born.