'Misleading' carbon credit claims by Enviro Associates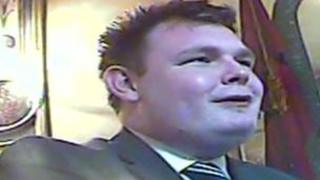 A partner in a Hampshire finance company has been filmed making apparently misleading claims about the investment potential of carbon credits.
Luke Ryan, of Winchester-based Enviro Associates, was secretly filmed by BBC Inside Out.
A carbon credit is a certificate or permit which gives firms the right to emit a tonne (1,000kg) of carbon dioxide (CO2).
The credits are designed to combat climate change and cash paid for them is usually invested in environmentally friendly and ethically responsible projects. They can also be traded for money.
'Serious money'
Covert filming showed Mr Ryan offering carbon credits for sale for £5.50 a tonne - a discounted rate on what he said was the "retail price" of £7.
Edward Hanrahan, from ClimateCare, said the credits should be sold at less than £1 per tonne.
In a recorded conversation with producers, who he believed had £10,000 to invest, Mr Ryan said there was "serious money" to be made from carbon credit trading.
He said: "In the next four to five years the market could go from anywhere from 100 to 500%.
"So you could be buying at £5.50 now, but in a year's time it could be [worth] £10, £11, £12, £13."
Mr Hanrahan said he would be "absolutely amazed if it was even £5.50 in a year's time," and warned that such sales techniques could damage the reputation of an industry which is tackling poverty and global warming.
He added: "With carbon credits, normally it's extremely responsible companies who have already reduced as much as they can internally and then want to take responsibility for their residual emissions.
"There's car manufacturers like Land Rover to large supermarkets like the Co-op down to small businesses and even individuals.
"Carbon finance is making a real difference to the lives of some of the poorest people in the world today."
Cold calls
Enviro Associates justified the price mark-up, comparing it to the cost of milk in a supermarket, which is higher than the price paid to dairy farmers.
The company added that it always informed customers there is a risk they could lose all or some of their capital if they invested in carbon credits.
The Financial Services Authority (FSA) recently warned the public to beware of cold calls from sales people selling carbon credits as an investment because it is such a complicated area.
The authority does not regulate the carbon credit trading market.
During the secret recording, Mr Ryan made it clear the sale of carbon credits is unregulated, but claimed customers' money would be held in accounts protected by the FSA.
Enviro Associates also published an internet advert stating that its carbon credit trading was regulated by the FSA.
In a statement, the firm accepted that the advert was misleading and said it had been removed.
"We make it clear that carbon credits are not regulated by the FSA," it said.
The company said it uses services provided by a company which is regulated, to emphasise the integrity and validity of its business.
The statement said: "Customers are always informed there is a risk they may lose all or some of their capital."
Referring to its sales methods, it added: "Cold calling is not the only way we contact potential customers. "
More on the issues of carbon credit trading are explored on Inside Out BBC One South on Monday, 12 November at 19:30 GMT. Watch afterwards on BBC iPlayer.