Southampton's new children's hospital gets go ahead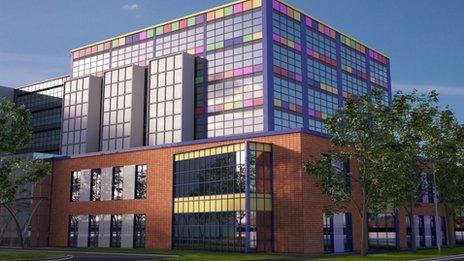 A new £70m children's hospital is to be built in Southampton.
The separate seven-storey building will be constructed within the site of the existing general hospital to bring equipment and resources together.
The children's wards are currently spread out on different floors across the hospital.
It is expected to take eight years to complete and will take patients from across the south of England and the Channel Islands.
Dr Iain MacIntosh, director of the paediatric intensive care unit, said: "Having a children's hospital on a big medical campus has big advantages. They can share all the facilities and resources."
Due for completion in 2020, the purpose built hospital will have a separate child-friendly entrance and children's emergency department.
It will house specialist children's services including cardiac surgery, neuroscience, oncology and a paediatric intensive care unit.
Staff nurse Paula Lowe said: "It will really help. We are really proud of the care that we provide, but I think if everything was under one roof we'd have access to all the equipment and specialist services."
Related Internet Links
The BBC is not responsible for the content of external sites.