Joshua Woodhouse died in 40ft fall wearing no safety gear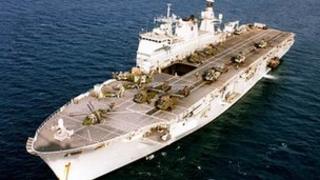 A Royal Naval officer who fell 40ft (12m) to his death on a helicopter carrier was not wearing safety gear, an inquest has heard.
Engineering officer Lt Joshua Woodhouse was serving on HMS Ocean which was visiting the Mayport naval station in Jacksonville, Florida, at the time.
The 25-year-old sailor, of Portsmouth, died from severe head injuries four days after the fall on 6 August 2010.
The hearing at Portsmouth Guildhall is expected to last two weeks.
'Bloodshot eyes'
The inquest was told Lt Woodhouse had been out drinking the night before with a fellow officer.
One colleague described his appearance on the day of the fall as "slightly shabby and with slightly bloodshot eyes", although another said he appeared "bright and happy" and not "dishevelled".
Stepping on to a landing craft suspended above the water at the side of HMS Ocean, Lt Woodhouse fell and landed on another landing craft moored in the water alongside the helicopter carrier.
He had gone aboard the landing craft to fix hoses, but colleague PO Matthew Fulton revealed he had done so without wearing a safety harness or helmet.
'Grabbed for handrail'
A sailor on board a passing USS warship was the only person to witness the fall.
Lt Cdr Geoffrey Wilson, of the Royal Naval special investigations branch, said: "He was seen to slide down from the bridge roof and lose his footing as he reached the next level.
"He was seen to grab for the handrail before falling."
Lt Cdr Wilson added there did not appear to be a consistent working at height policy followed by crew members, and colleagues took differing precautions.
Lt Woodhouse began his officer training at the Britannia Royal Naval College in Dartmouth in January 2007 before carrying out his initial sea training on HMS Illustrious.
He went on to serve on HMS Edinburgh, HMS Nottingham and HMS Scott before moving to HMS Ocean in January 2010.