Seven cars stuck in Hampshire flood waters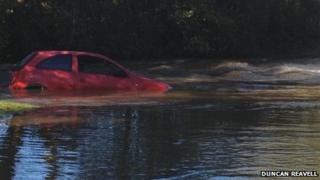 Firefighters were called seven times to people trapped in their cars after trying to drive through flood waters.
The Environment Agency (EA) has warned people across Hampshire and the Isle of Wight to prepare for flooding.
Teams are watching water levels and checking defences. A flood warning for the River Blackwater has been lifted.
The fire service warned motorists that vehicles can float away in as little as two feet of water after the seven calls on Sunday morning.
Four of the incidents were in the New Forest.
'Ground saturated'
One woman was trapped in her car after it was pushed on to its side, while in other cases people managed to get themselves to safety before crews arrived.
In May, Jonathan Gammon died after the car he was in became submerged in a flooded ford at Thornford Road in Headley, Hampshire.
Andy Bowers, from the fire service, said: "If your vehicle stalls, leave it immediately if safe to do so and seek higher ground.
"Do not travel in heavy rain storms unless absolutely necessary."
The EA is closely monitoring water levels at the Monktonmead Brook pumping station in Ryde on the Isle of Wight.
Temporary pumps have been brought in to keep the water levels down.
Andrew Gilham, from the EA, said: "We are keeping a close eye on river levels across the south east following the heavy rainfall that has already left the ground saturated and seen rivers respond."