Wightlink jobs to go as overnight island sailings axed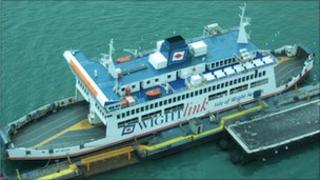 A ferry firm serving the Isle of Wight is asking staff to take voluntary redundancy as it axes sailings.
Wightlink said some night sailings on its three routes were poorly used with staff often outnumbering passengers.
All workers on its Portsmouth-Ryde, Portsmouth-Fishbourne and Lymington-Yarmouth crossings will be offered redundancy to absorb the losses.
The company said it was not intending to make compulsory cuts. It is also planning a new pension scheme.
The new defined contribution scheme will be offered to new starters.
'Realistic response'
A new timetable will come into force from 1 January to reflect the changes.
Wightlink said the changes would help "put the company on a secure financial footing" as it looks to invest in new ships it will soon require for the Portsmouth-Fishbourne route.
It blamed recent poor weather, rising fuel costs and increased regulation on the need to make cuts.
Chief executive Russell Kew said "Wightlink has a long and proud history of serving the Isle of Wight, and we are determined to protect that heritage.
"These changes are a realistic response to the challenges which our business faces in today's difficult economic climate."