Cockleshell Heroes honoured with Royal Marines Museum memorial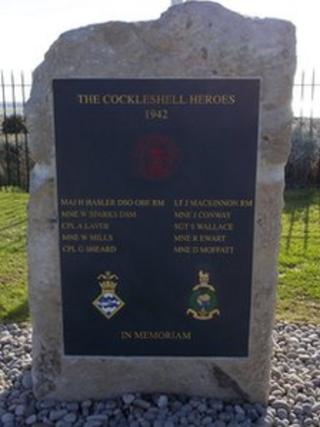 A memorial has been unveiled in Hampshire to commemorate a group of World War II heroes.
In 1942, 10 Royal Marine canoeists embarked on a mission to attach mines to enemy supply ships in Bordeaux.
Only two of the men, who became known as the Cockleshell Heroes, survived by escaping to Spain across the Pyrenees.
Lord Paddy Ashdown unveiled the memorial in the grounds of the Royal Marines Museum, Eastney, to mark the 70th anniversary of the raid.
In a statement Lord Ashdown said: "I am delighted that the courage and daring of the Cockleshell Heroes is being very publicly recognised with the unveiling and dedication of a memorial at Eastney, their home soil where they lived, formed up, and trained."
A plaque was installed on a house in Southsea, Portsmouth, where the officers involved were housed, on 23 October.