Ford workers should get 'government backing'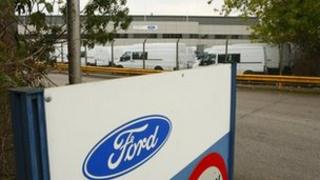 Ford employees and contractors should have more state funding in coping with the shutting of the Southampton Transit factory, a business group said.
Solent Local Enterprise Partnership (LEP) has promised an action plan to mitigate the impact of the closure.
Following an emergency meeting, it said it would work with Ford to develop training for those losing their jobs.
The carmaker announced it is to close the Swathling plant in 2013 with the loss of about 500 jobs.
The LEP, made up of local authorities and business organisations, said it would try to speed up and increase the Department for Business, Innovation and Skills' "Bridging the Gap" funding for the region.
Additional incentives
The money would be targeting to help workers considering self-employment as well supporting local small businesses who had contracts supplying the factory.
The group said it supported the idea of using the site for job creation in the future and establishing a Local Development Order (LDO) to simplify planning processes.
Doug Morrison, Solent LEP chairman, said the primary focus was creating employment.
"It is important that we have a strategy in place to respond to the situation. We now need swift action on the ground in Southampton if we are to mitigate the economic impact of the closure."
Southampton City Council leader Richard Williams said: "With the additional incentives we can put in place, I am hopeful we can secure new job opportunities on the site after Ford close, and the training and skills support we initiate now will ensure our local workforce can secure the new jobs created at the site."
A spokesman for Unite the Union said it "continued to oppose the closures" of Ford's plants in Southampton and Dagenham in Essex.