Public support after robbery at Portsmouth D-Day museum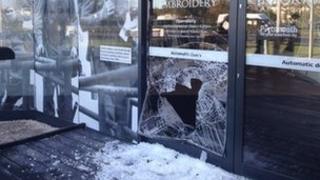 Portsmouth's D-Day museum has had an influx of donations after thieves stole money and damaged its entrance.
The museum was broken into early on Tuesday morning, hours before the official opening of its new foyer.
Portsmouth City Council said more than £500 had since been donated by members of the public.
The vandalised glass doors will take up to four weeks to replace. The museum hopes to reschedule the opening ceremony for December.
Andrew Whitmarsh, development officer for the museum, said the support had been "truly overwhelming".
"We've had so many warm wishes from members of the public, from far and wide, not just in this country but from other countries also," he said.
It is thought a concrete block was thrown at the new frontage, which depicts troops boarding landing craft ahead of the Normandy landings in 1944.
Charity donation money was also stolen. The cost of the damage is estimated to be more than £1,000.
The council had spent £60,000 on renovating the attraction's foyer, which includes a new visitor information centre.
Police are looking for two men who were seen near the museum at about 01:00 GMT on Tuesday, and left the scene in a small red hatchback car.
The museum remains open to the public as usual.