Gritting salt stocks at Southampton docks 'could be wasted'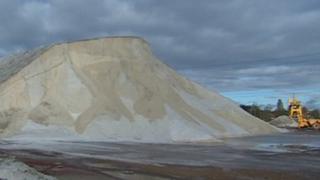 A hundred thousand tonnes of road-gritting salt at Southampton docks thought to be worth millions of pounds could go to waste, the AA has claimed.
The salt was imported from Australia in the winter of 2010-11 when demand across Europe had pushed up prices.
Prices have since fallen and the AA has warned the salt, which was uncovered for more than a year, could deteriorate before it can be sold on.
The Highways Agency said the salt is "perfectly capable of being used".
A spokesman added: "The salt is part of the national strategic stockpile which is kept as contingency in case of prolonged severe winter weather.
"We are confident the country has robust salt stocks and starts the winter with a healthy supply.
"The salt stored at Southampton... is stored under cover of sheeting and is perfectly capable of being used if required."
BBC South's transport correspondent Paul Clifton said an industry source had told him the salt in Southampton is for sale to councils at £65 a tonne, plus delivery costs.
But fresh salt can be imported for £45 a tonne including delivery and the main salt mine in Cheshire will supply it for £32 a tonne, he added.
The source told the BBC the salt will only last for three or four years before it decays, even if it is covered.
It is currently stored at Southampton's Western Docks, which is believed to be costing the agency hundreds of thousands of pounds each year in payments to dock owners Associated British Ports.
AA spokesman Paul Watters praised the agency for stepping in to buy the salt upfront at a time of crisis, but said the wet weather since then could cause the pile of salt, which has only recently been covered, to deteriorate.
"Having got it, we have to make sure we use the asset we've got - we need to make sure it is in the right place, in the right condition.
"I'd hate to think we'd have to ditch this stuff if it is no good."