Southsea's South Parade Pier closed over safety concerns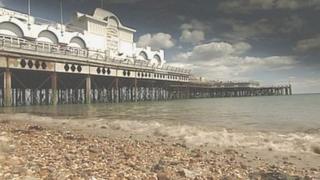 A Grade II listed Hampshire pier deemed "a danger to the public" and at risk of collapsing has been closed with immediate effect.
South Parade Pier in Southsea is being fenced off and security put in place to prevent anyone from entering it.
Portsmouth City Council said a building survey showed the steelwork holding the pier up was rusty and corroded and "in danger of losing structural integrity".
Owners SPP South Coast Ltd could not be reached for a comment.
A spokeswoman for the council said a meeting had been held earlier with the owners who had "agreed to co-operate with the council and close the pier to the public".
'Dangerous structure'
Michael Lawther, the council's strategic director, said: "Our primary concern is public safety, so we are pleased the owners of the pier are taking responsibility and closing the pier due to structural concerns.
"Unfortunately there are concessions who will be affected, and it is disappointing it has taken the owners so long to step in and deal with the issues.
"Building surveys have shown the pier in its current state is a danger to the public, so it is vital this is addressed.
"The pier will remain closed until we are satisfied works have been undertaken so it's no longer a dangerous structure.
"Closure notices will go on the top of the pier today, and underneath the pier tomorrow, when low tide enables access."
The first South Parade Pier opened in 1879, but it was destroyed by a fire in 1904 and rebuilt in 1908.
In 1974 it was again wrecked by fire during the filming of the Ken Russell movie "Tommy" and part of the superstructure had to be rebuilt.