Sandy: Hampshire couple stranded in New York by storm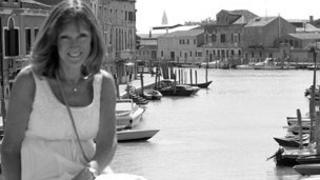 A Hampshire couple have said they are stuck in New York after fleeing their hotel ahead of super storm Sandy with "no sign of flights home".
Professional artist Jean Haines and her husband John, who live near Fleet, are on a working tour of the US.
Mrs Haines said: "It's a very, very unusual situation here, we may be stranded for 10 days."
Hurricane Sandy converged with a cold-weather system and hit New Jersey on Monday evening with 80mph winds.
More than 40 people are known to have died. Nearly two million are without power in New York.
The Haines had to leave their hotel on Long Beach Island the night the storm was due to hit.
Mrs Haines said: "We we were advised not to go out because the hurricane was heading this way."
"I am horrified at images of Long Island on the news, sending prayers to everyone there", she wrote on Twitter.
'Ghost town'
The couple have managed to stay in a hotel in Manhattan, where they should not be at risk of flooding.
Mrs Haines said she had never seen anything like the destruction left by the storm.
"It feels unreal, I wish it was only a movie," she said.
Driving through the streets in the aftermath of the storm on Tuesday, she said: "The roads were deserted. You can drive through easily. It's just like a ghost town, it's absolutely empty.
"In half of New York the lights are still out and some areas are still flooded in Manhattan."
Mrs Haines said in a message on Twitter: "I think it's hitting everyone how bad this is now, the aftermath almost seems worse than the storm."
The storm grounded more than 18,000 flights to and from New York's three airports and it is expected to take several days before travel gets back to normal.
The couple said they were still waiting for their airline to confirm when they could fly home.