Thieves hit Portsmouth D-Day museum front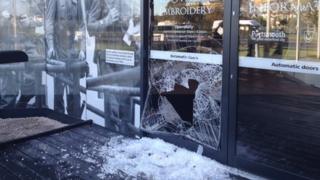 The unveiling of a new entrance to Portsmouth's D-Day museum has been cancelled after it was damaged in a break-in overnight.
It is thought a concrete block was thrown at the new frontage, which depicts troops boarding landing craft ahead of the Normandy landings in 1944.
A box of donated money was also stolen from the museum in Southsea.
D-Day veteran Gordon Dance, who was due to attend the ribbon-cutting ceremony, said he was "disgusted".
Mr Dance, 86, who served with the Royal Navy during World War II, added: "I'm so angry I can't talk about it. If I did I think I'd blow up.
"Where do they get their intelligence, from their boots?"
Councillor Lee Hunt, of Portsmouth City Council, described the incident as "horrendous".
'Really upsetting'
He said: "This will not deter us, we'll repair the damage, we'll do everything we can to catch those responsible, and we will have our fantastic opening as soon as possible.
"This is really upsetting for everyone involved getting the museum ready in time for half-term and for Remembrance Day."
The council had spent £60,000 on renovating the foyer at the museum which includes a new visitor information centre.
Mary Verrier, who was a nurse during D-Day, said: "We consider this place to be a memorial to those who were killed or seriously injured during the war.
"To break in here and steal a charity box beggars belief. These people are the lowest of the low."
Police were called shortly before 01:00 GMT and are conducting a forensic examination of the museum entrance.
They said they were looking for two men who were seen near the museum and left the scene in a small red hatchback car.
The museum is open to the public as usual.